Press release
Successfully organized international conference in Vienna: »75 years of Europe's Collective Security and Human Rights System«
Ljubljana/Vienna, 8. July 2020 – International Institute for Middle-East and Balkan Studies (IFIMES)[1], the Modern Diplomacy, along with the world's eldest diplomatic school Diplomatic Academy Wien and two other partners Culture for Peace and International scientific journal European Perspectives organised in Vienna on the 01 July 2020, a conference with over 20 speakers from all around the globe. The event under the name "From victory day to corona disarray: 75 years of Europe's collective security and human rights system", was highly anticipated and successful gathering of scientists, experts of various profiles, diplomats, civil society, the media and other interested publics from five continents and was probably one of the very few real events in Europe, past the lockdown.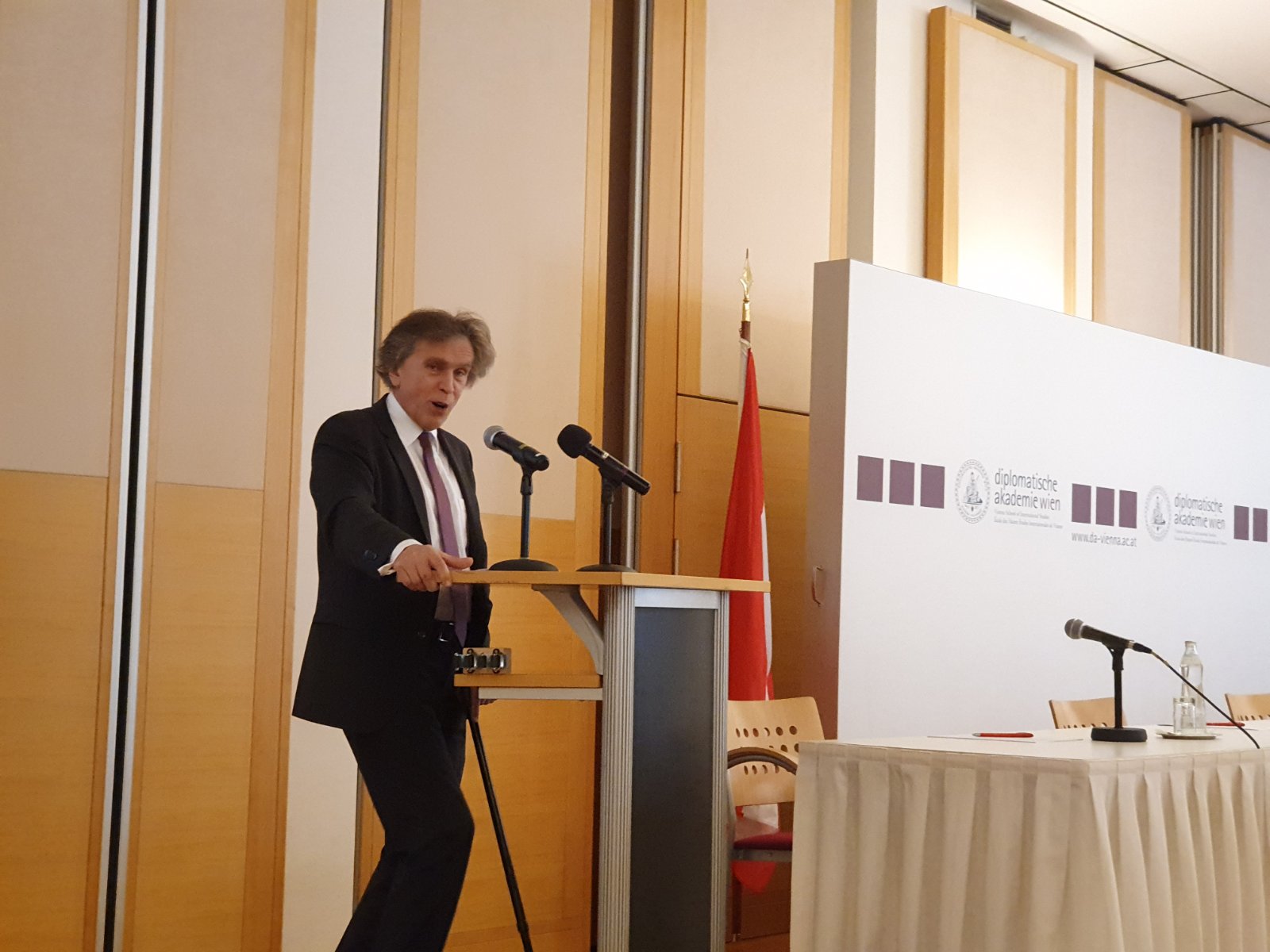 Photo: Ambassador Dr. Emil Brix, Director of the Diplomatic Academy Vienna
Among 20-some speakers were: former Austrian President (a.D) and current co-chair of the Ban Ki-moon center Dr. Heinz Fischer; the European Commission Vice-President Margaritis Schinas; former Secretary-General of the OECD and Canadian Economy minister (under PM Trudeau senior) Donald J. Johnston; former European commissioner and Alpbach Forum President Dr. Franz Fischler; former OSCE Secretary General and current OSCE High Commissioner on National Minorites Lamberto Zannier; Austria's most know Human Rights expert Prof. Dr. Manfred Nowak; Editor-at-Large of the Washington-based the Hill Steve Clemons; Secretary General of the Union for the Mediterranean Nasser Kamel; Dean and executive Secretary of the International Anti-corruption Academy Ambassador Thomas Stelzer; the longest serving Defence Minister of Austria and current President of the AIES Institute Dr. Werner Fasslabend; founder and CEO of the largest university sports platform in Europe Lawrence Gimeno; Urban futurist Ian Banerjee; executive Director of the Vienna Institute for International Economic Studies (WIIW) Dr. Mario Holzner, and many more thinkers and practitioners from the UK, Germany, Italy and Australia as well as the leading international organisations from Vienna and beyond.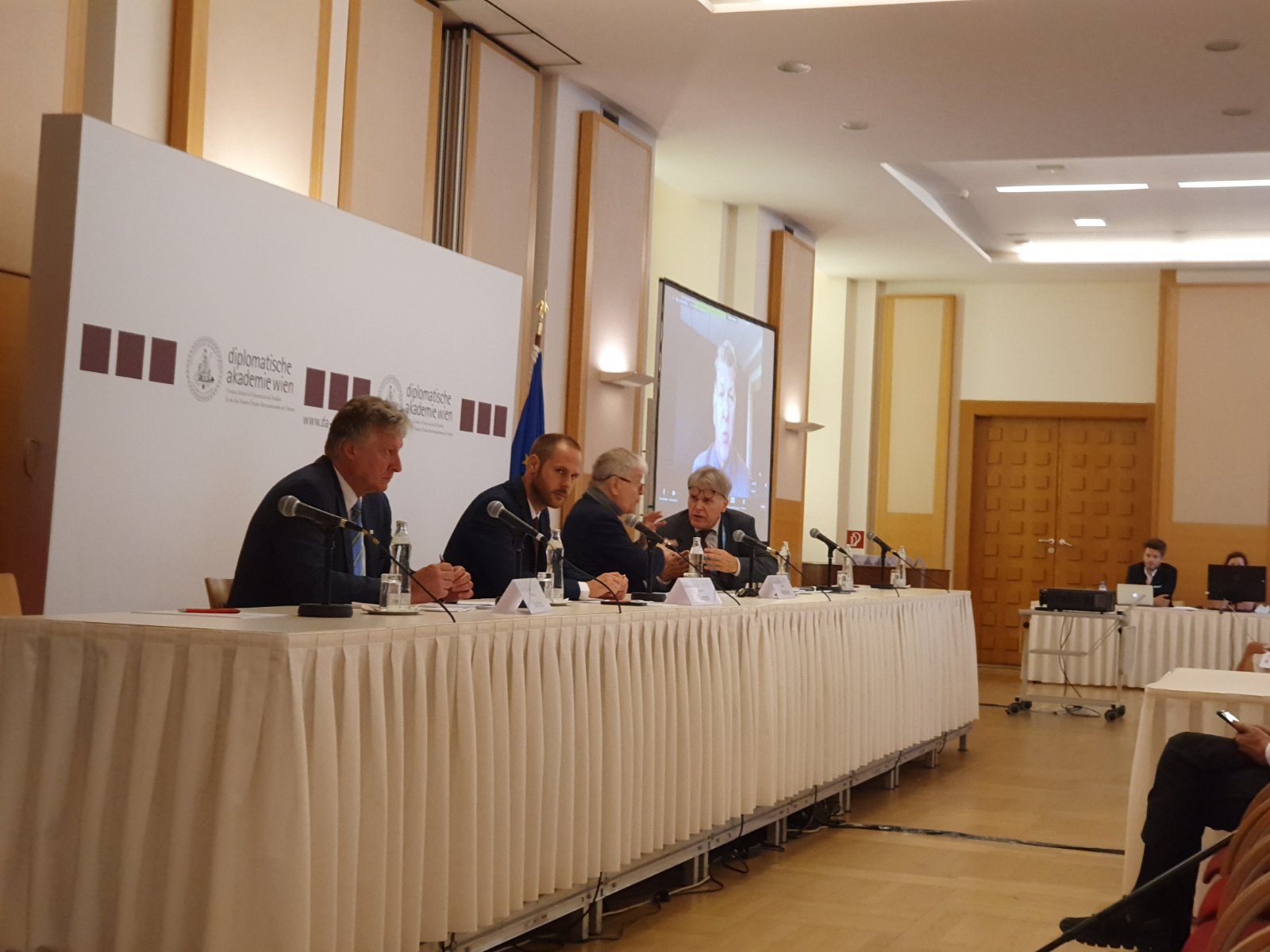 Photo: Thomas Stelzer (left), Zeno Leoni, Anton Pelinka and Anis H. Bajrektarevic.
Media partners were diplomatic magazines of several countries, and the academic partners included over 25 universities from all 5 continents, numerous institutes and 2 international organisations. A day-long event was also Live-streamed, that enabled (digital) audiences from Argentina to Far East and from Canada to Australia to be engaged with panellists and attendees in the plenary and via zoom.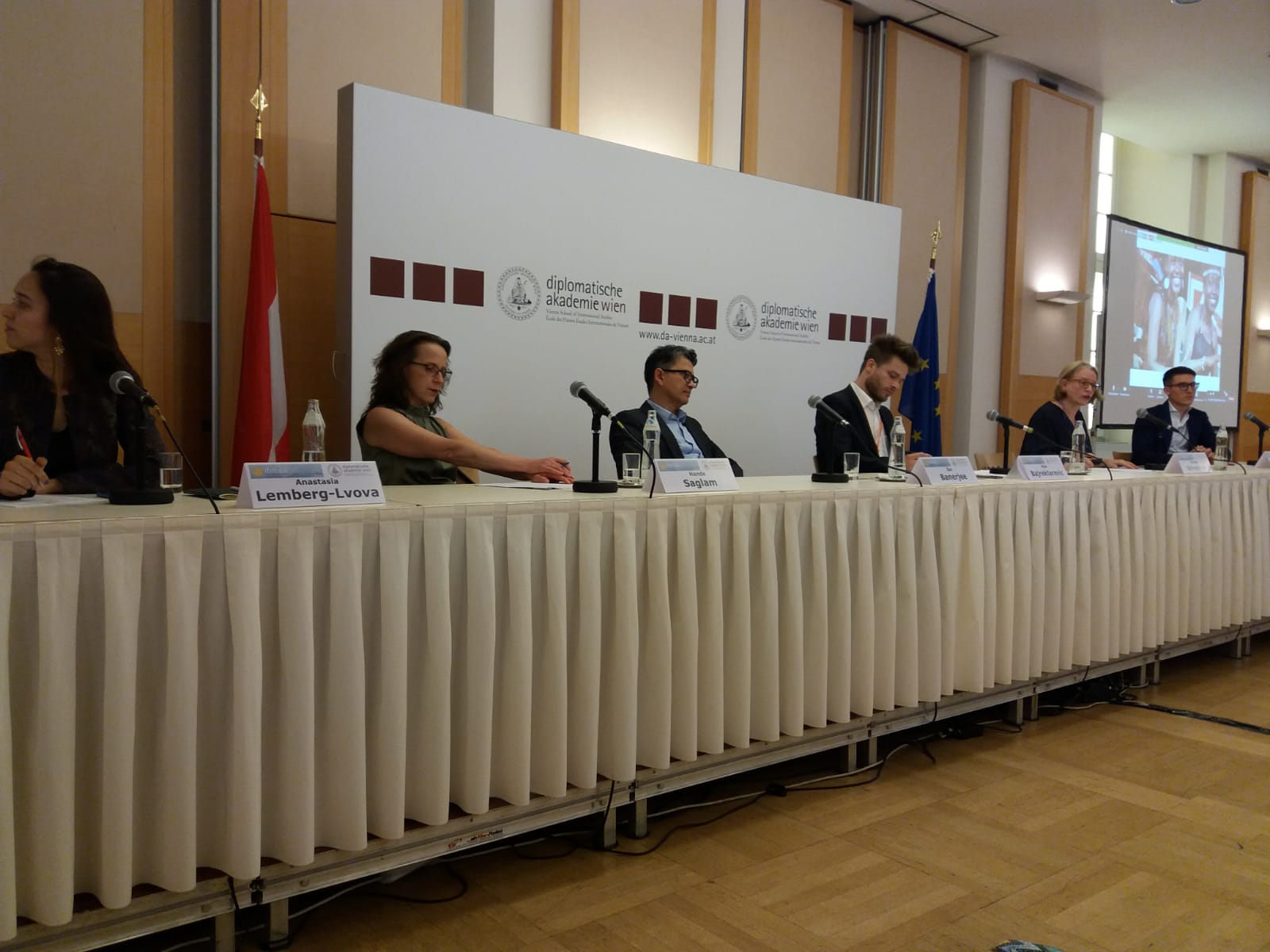 Photo: Anastasia Lemberg-Lvova (left), Hande Saglam, Ian Banerjee, Mak Bajrektarevic, Miriam Schreinzer and Lawrence Gimeno.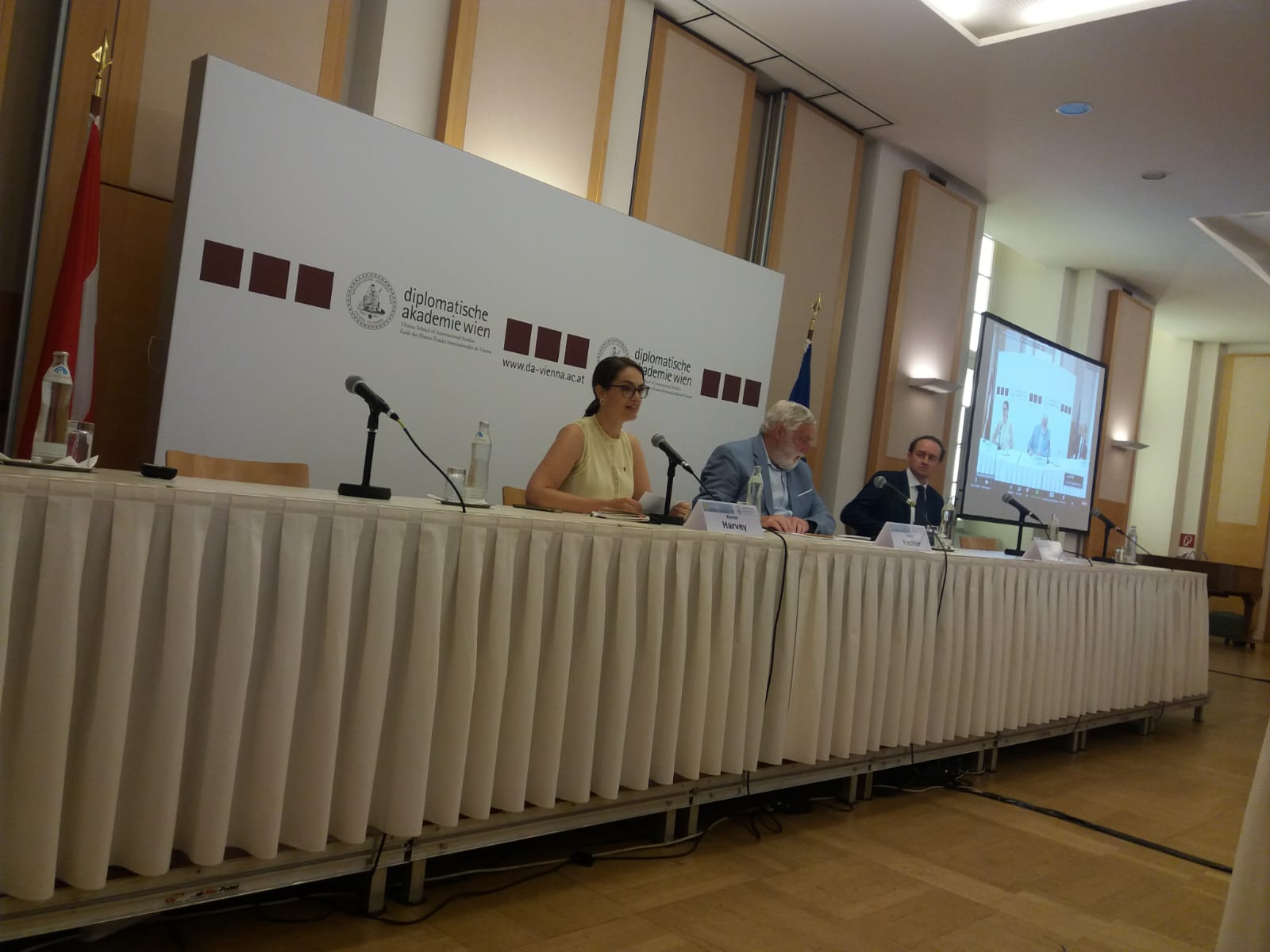 Photo: Katrin Harvey (left), Franz Fischler and Mario Holzner
The event was closed with the mini concert by the world's best hurdy-gurdy performer, Matthias Loibner and accompanying vocalist, professor of the Music University Vienna, Natasa Mirkovic.
Video link - 1. panel: https://www.youtube.com/watch?v=DvlGydZDj6g&t=7059s
Video link - 2.panel: https://www.youtube.com/watch?v=C9il5GYYYPk
* * * *
Wishing to make the gathering more meaningful, the four implementing partners along with many participants have decided to turn this event into a lasting process. It is tentatively named – Vienna Process: Common Future – One Europe. This initiative was largely welcomed as the right foundational step towards a longer-term projection that seeks to establish a permanent forum of periodic gatherings as a space for reflection on the common future by guarding the fundamentals of our European past.
As stated in the closing statement: "past the Brexit the EU Europe becomes smaller and more fragile, while the non-EU Europe grows more detached and disenfranchised". A clear intent of the organisers and participants is to reverse that trend.
To this end, the partners have already announced the follow up conference in Geneva for early October 2020, to honour the 75th anniversary of the San Francisco Summit. Similar call for a conference comes from Barcelona, Spain which was a birthplace of the EU's Barcelona Process on the strategic Euro-Mediterranean dialogue.
Ljubljana/Vienna, 8 July 2020
Footnotes:
[1] IFIMES – International Institute for Middle East and Balkan Studies, based in Ljubljana, Slovenia, has Special Consultative status at ECOSOC/UN, New York, since 2018.