Press release
Executive Director of the WIIW Institute Dr. Holzner received the IFIMES delegation
Ljubljana/Vienna, 26 August 2020 – Executive Director of the Vienna Institute for International Economic Studies (WIIW) Dr. Mario Holzner received the directors of the International Institute for Middle East and Balkan Studies (IFIMES)[1], Assist. Prof. Dr. Zijad Bećirović and Bakhatyar Aljaf accompanied by Prof. Dr. Anis H. Bajrektarević, head of the IFIMES Permanent Mission in Austria and at international organizations based in Vienna.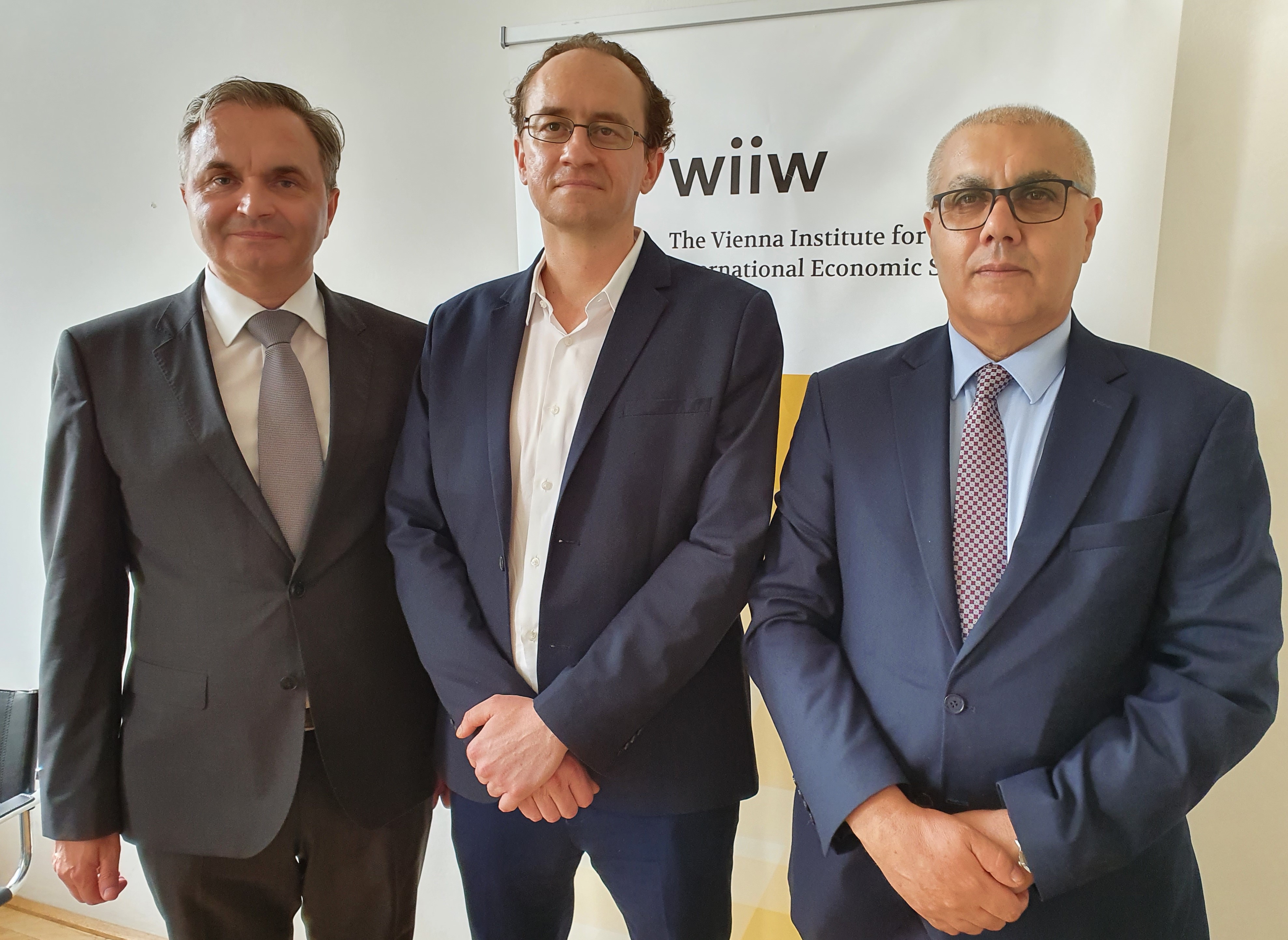 Photo IFIMES: Zijad Bećirović (left), Mario Holzner and Bakhatyar Aljaf
Executive Director of the WIIW Institute dr. Holzner thanked the guests for their visit and presented the activities of the institute in Austria and the world, especially large economic infrastructure projects, which are important for the prosperity of the Western Balkans region. He presented his experiences while working in the region and the possibilities of improving the economies of the countries in the region. Dr. Holzner presented the "Proposal for the European Recovery Program Covid-19", developed by the WIIW Institute with partners.
Director of IFIMES dr. Bećirović thanked dr. Holzner on the visit and presentation of the institute and praised WIIW's efforts to rebuild the region, because it is a key issue of overall progress of the region, which in the economy lags behind the modern and developed world without indications that there will soon be significant positive changes in this regard.
At the end of the visit, the IFIMES management invited Dr. Holzner to have a lecture at the institute soon and to find a model of cooperation between IFIMES and WIIW by the signing of the Memorandum of Cooperation (MoU) which Dr. Holzner gladly accepted.
Ljubljana/Vienna, 26 August 2020
Footnotes:
[1] IFIMES – International Institute for Middle East and Balkan Studies, based in Ljubljana, Slovenia, has Special Consultative status at ECOSOC/UN, New York, since 2018.