Press release
Director of the Vienna Wiesenthal Institute received the IFIMES delegation
LJUBLJANA/VIENNA, 9 July 2020 – Director of the Vienna Wiesenthal Institute for Holocaust Studies (VWI) Dr. Béla Rásky received the directors of the International Institute for Middle-East and Balkan Studies (IFIMES)[1] Assist. Prof. Dr. Zijad Bećirović and Bakhatyar Aljaf, accompanied by the Head of the IFIMES Permanent Mission in Austria and at international organizations based in Vienna, Prof. Dr. Anis H. Bajrektarević.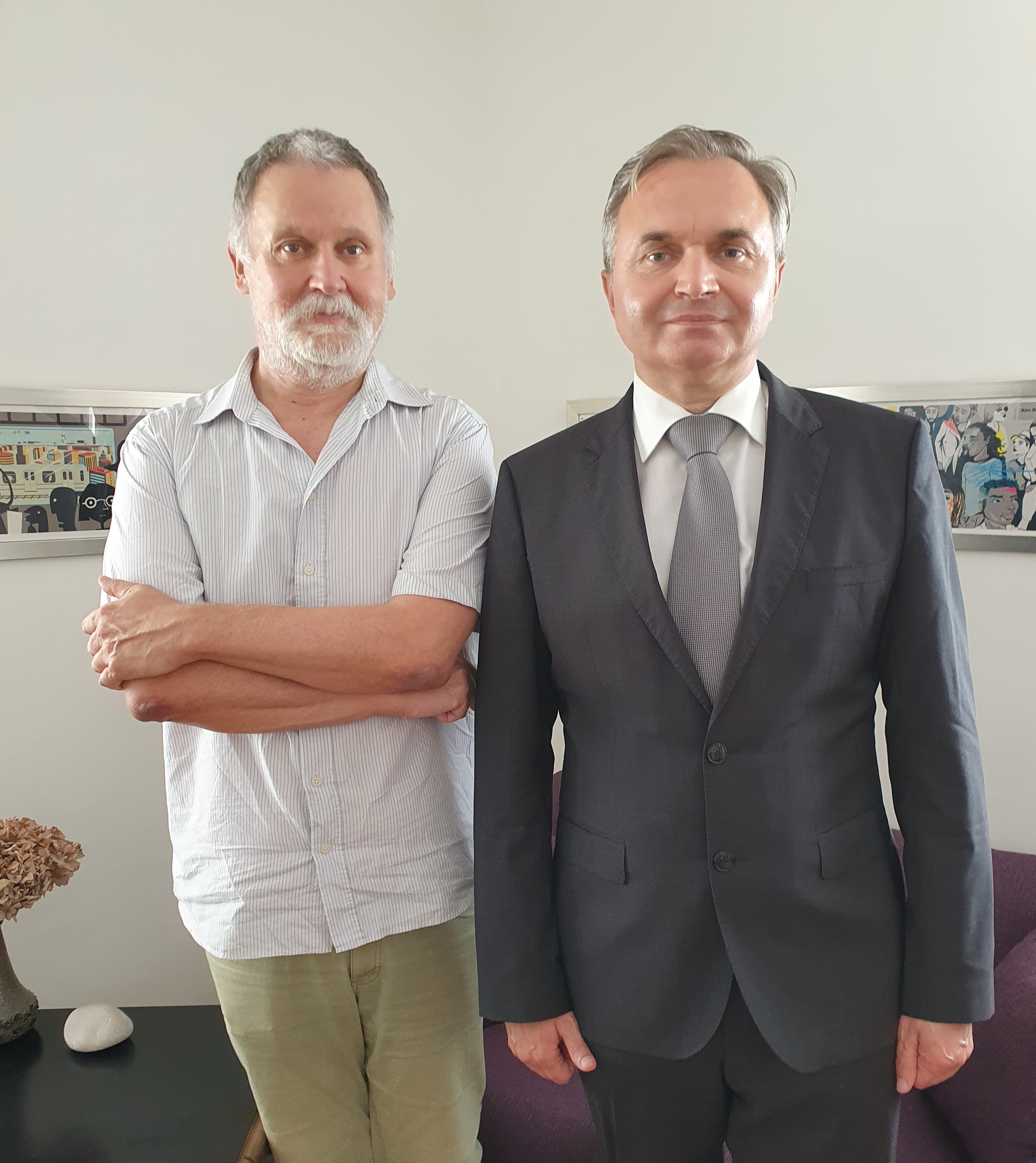 Photo Ifimes: dr. Béla Rásky (left) and dr. Zijad Bećirović
Director of the Vienna Wiesenthal Institute dr. Rásky expressed his thanks to the guests for their visit. He presented the activities of the institute and its history, and also showed the guests the Simon Wisenthal Museum. In a long conversation, dr. Rásky presented the challenges that the institute has faced and still faces in its operations. He presented a program of research and projects to be published in the autumn of 2020, to which he also invited IFIMES experts. The signing of a Memorandum of Understanding (MoU) was also discussed.
Director of IFIMES dr. Bećirović thanked dr. Rásky for the reception and the time he devoted to the Institute's delegation, stressing that investigating and prosecuting war crimes, genocide, especially the Holocaust must be a constant task of the civilized world, as we can build our future based on our relationship to the past. Unfortunately, in the region of the Western Balkans, which in the recent past was a war zone, we still have individuals who are perpetrators of war crimes, or glorify crimes and criminals and are not sanctioned or even perform the highest state duties. For this reason, our task is to increase the scope and quality of research, especially to draw the public's attention to the growing anti-Semitism and denial of the Holocaust and genocide, which unfortunately is not yet regulated in individual countries such as Bosnia and Herzegovina. The genocide in Srebrenica was committed in BiH in July 1995, which is also confirmed by the final judgments of the International Criminal Tribunal on Former Yugoslavia (ICTY) based in The Hague.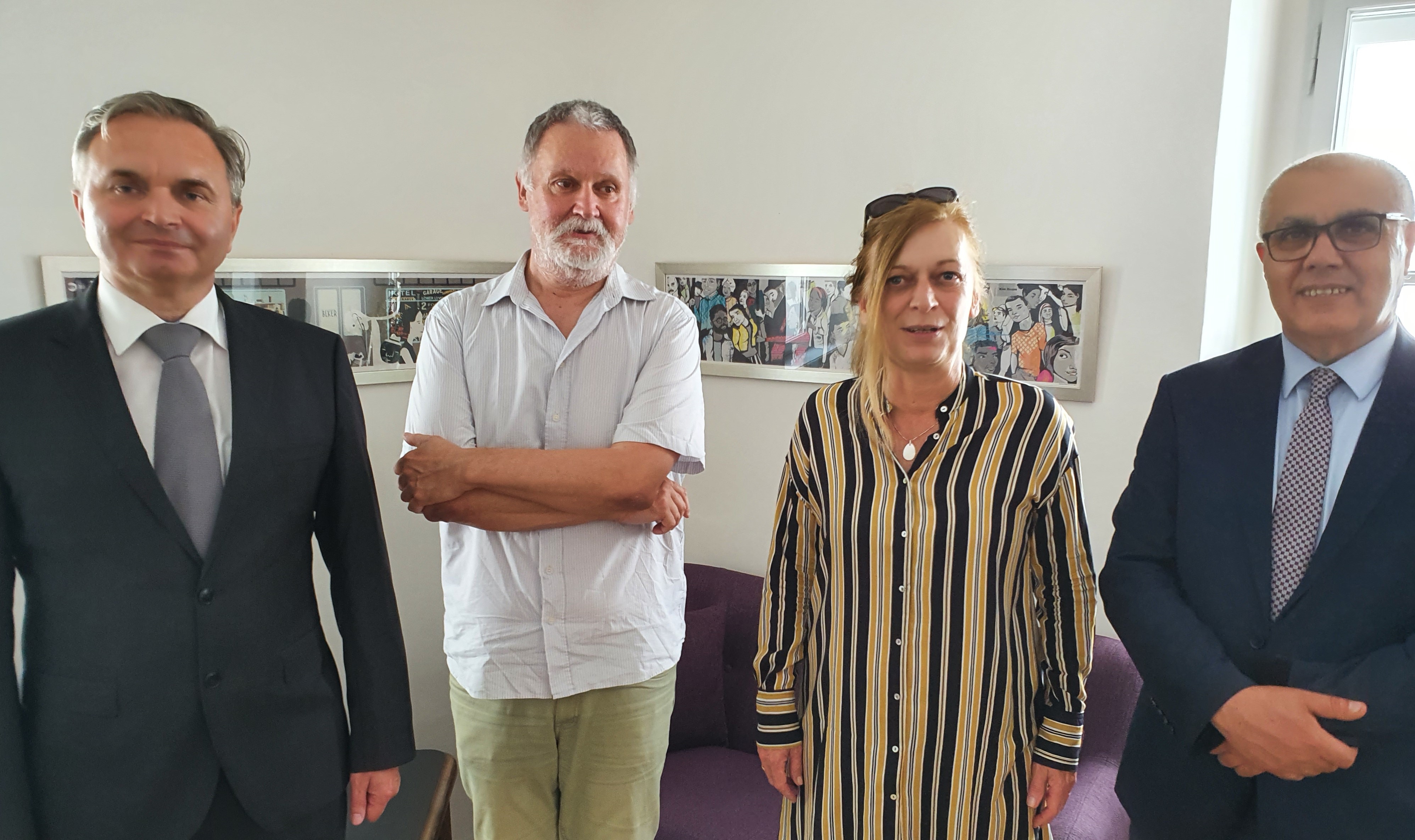 Photo Ifimes: Zijad Bećirović (left), Béla Rásky, Eva Kovács and Bakhatyar Aljaf
The IFIMES delegation also invited director dr. Ráskya to visit the Institute soon and give a lecture, which he gladly accepted.
During the visit, the IFIMES delegation also had a short meeting with Prof. Dr. Éva Kovács, Research Program Director.
Ljubljana/Vienna 9 July 2020
Footnotes:
[1] IFIMES – International Institute for Middle East and Balkan Studies, based in Ljubljana, Slovenia, has Special Consultative status at ECOSOC/UN, New York, since 2018.